MBDCA Community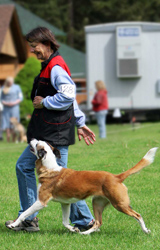 The Hall of Fame recognizes those dogs and owners who have demonstrated unusual merit, accomplishment, or achievement.
All Star dogs have earned multiple titles or high scores while trialing.
The Award of Excellence is given annually to the highest scoring dogs in Obedience, Rally, and Agility.
Find links to activities you can do with your dog and the organizations that support them.